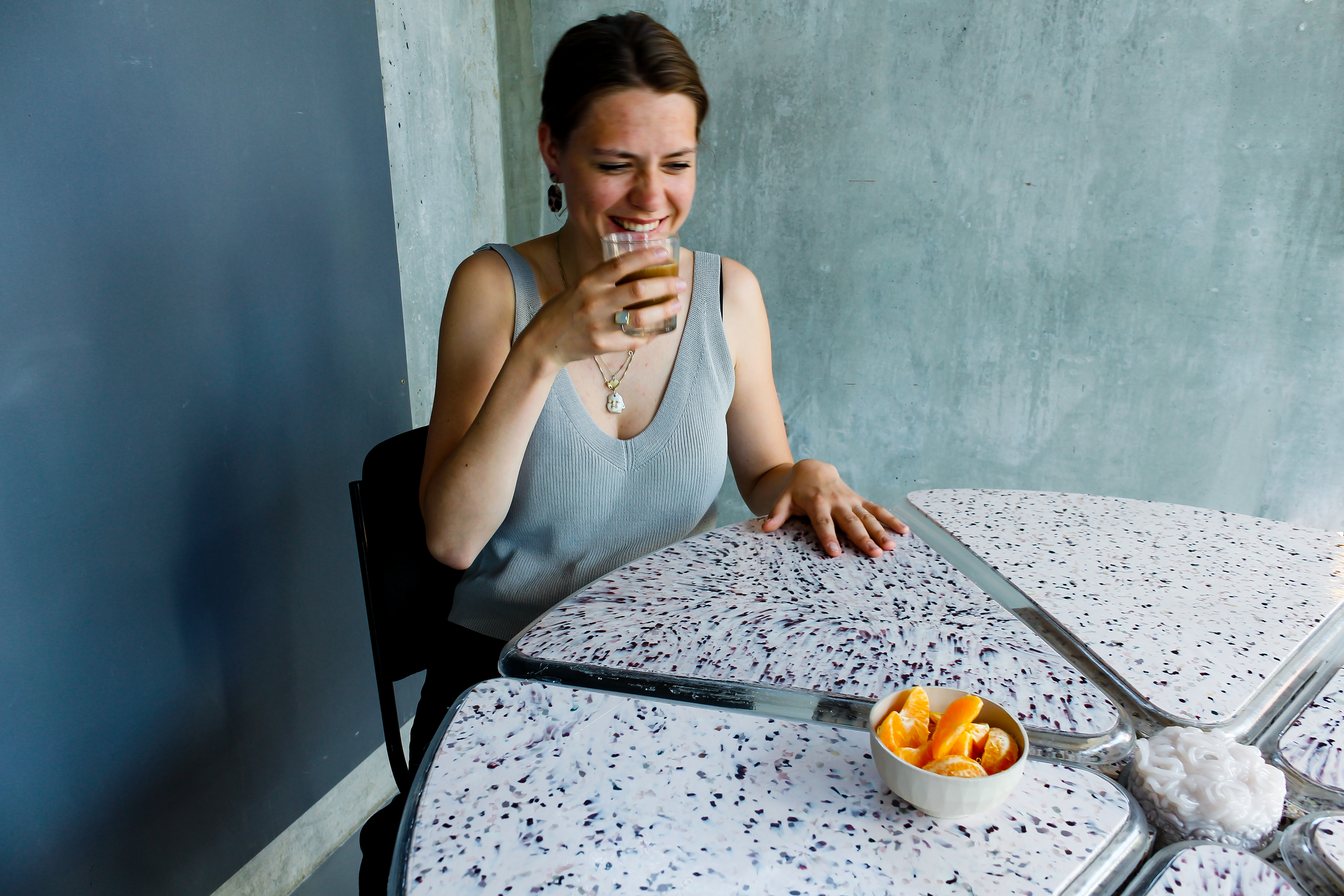 My interest in working with the RE-use of leftover materials began three years ago at my home university Weissensee School of Art, Berlin, with my experimental project: zuMessen (exhibition 2019 at Pilnitz Castle).
The visit of the headquarter of "Precious Plastic's" in Eindhoven (Netherlands) at the end of 2018 and the insight into their work helped me to gain a basic knowledge of recycling plastic.
My semester abroad at the "Ingvar Kamprad Designcentrum", Lund, Sweden, gave me the opportunity to design, manufacture and build a dining table out of recycled plastic. The engineers of the LTH campus there supported me with machines and their profound knowledge. Thanks to them I could not only experiment with plastic colour mixtures, structures and forces, but also learned about various plastic processing methods, such as injecting and extruding, plastic thermoforming, pressing or milling. FinalIy I succeeded in developing a product for the design brand "fundamental.berlin". My bath shelf transforms a harmful material into a valuable design object.
After focusing on the reprocessing of synthetic materials, in 2020 I decided to approach the topic of recycling in an ecological way. Especially the issue of the value loss of meat and the immense waste of food brought me to the topic of my bachelor thesis "To The Bones". In the practical part of this work I processed bones of cattle that are normally burned as waste into materials that could be used for various commercial goals. Using this knowledge could lead to a reduction of animal waste and a substitution of synthetic products by materials out of bones.
My current project "From Nose to Tail" in the first semester of my master's studies at "Weissensee School of Art, Berlin" follows this forward looking bone topic. I'll get you informed about my victories and defeats …